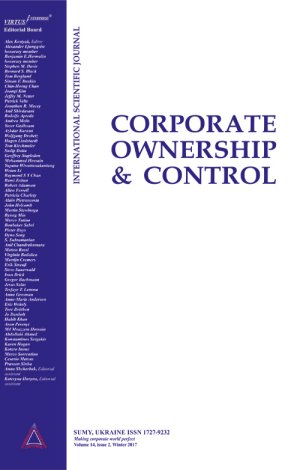 BACK-DATED STOCK OPTIONS AND RESTATEMENTS OF SUSPECT EARNINGS: IS THERE A CORRELATION?
Download This Article
Joe Ueng, Daryl Koehn
DOI:10.22495/cocv13i2p8
Abstract
A large number of US companies seem, almost miraculously, to have granted options on dates that coincided with low stock prices. Scholars have documented a pattern of sharp stock appreciation after executives had received stock grants. The pattern suggests that back-dating has occurred. This paper examines whether firms that have restated suspect earnings (we exclude restatements due to backdating) are more likely than non-restaters either to have admitted to back-dating options or to be at risk of being back-daters. We find that both Fortune 500 and non-Fortune 500 restating firms are more likely to be actual back-daters than non-restating firms. Fortune 500 restaters are also more likely to be potential back-daters.
Keywords: Stock Options, Ethics, Earnings Restatements, Stock Options Back-Dating
How to cite this paper: Ueng, J., Koehn, D. (2016). Back-dated stock options and restatements of suspect earnings: Is there a correlation? Corporate Ownership & Control, 13(2), 71-82. http://dx.doi.org/10.22495/cocv13i2p8