Corporate Governance: New Challenges and Opportunities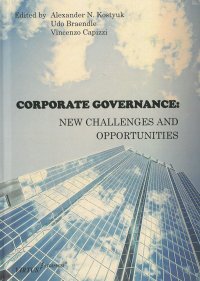 Publishing house Virtus Interpress introduces a book focused on the national CG challenges and industrial CG challenges as well titled "Corporate Governance: New Challenges and Opportunities".
ISBN: 978-617-7309-00-9
Edited by: Alexander N. Kostyuk, Udo Braendle, Vincenzo Capizzi
Number of pages: 315
Published: 2017
Cover: hardcover
How to cite: Kostyuk, A. N., Braendle, U., & Capizzi, V. (Eds.). (2017). Corporate governance: New challenges and opportunities. Sumy, Ukraine: Virtus Interpress.
Synopsis: Good corporate governance undoubtedly is a key to sustainable private sector development and a basic element for healthy firms. Since the crisis started in 2008 many challenges were addressed to the companies worldwide. Recently a corporate governance landscape faced numerous challenges and changed remarkably. This book represents a collaborative effort of the contributors from 18 countries (the UK, the USA, Canada, Australia, New Zealand, Ireland, France etc.) to assess the state of corporate governance around the world in the wake of the 2008 global financial crisis.
Price of the book: Euro 98 (shipment included).
How to order: You can either pay online with the credit card, using "Order Now" button or contact us by the e-mail order@virtusinterpress.org indicating the book you want to order and the number of copies of the book. We will send you the invoice in reply.
Contents
A Sample Chapter 1
Order Form
Foreword
A Sample Chapter 2
Feedback
List of editors and contributors
The payment can be made with credit/debit card via secure payment system provided by Ukrainian processing center. During the payment, you will probably receive an SMS from your bank with the password to confirm the transaction. The price in Euro is an oriented one. The payment will be charged in UAH according to the exchange rate of your payment card provider. Once the payment is made we will process it ASAP and our representative will contact you to deliver the service/confirm the payment.