Evolution of Corporate Governance in Banks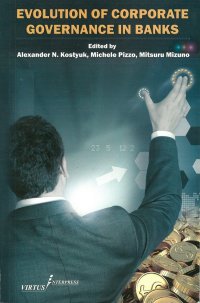 Publishing house Virtus Interpress introduces a book that describes main characteristics and historical peculiarities of the corporate governance development worldwide titled "Evolution of Corporate Governance in Banks".
ISBN 978-966-96872-5-7
Editors: Alexander N. Kostyuk, Michele Pizzo, Mitsuru Mizuno
Published: 2012
Number of pages: 294
Cover: paperback
Synopsis: The eleven contributions collected in this book analyze the evolution of banks' corporate governance rules worldwide. The first chapter is dedicated to the US banking and financial system and describes the substantial changes in the corporate governance framework applied to those companies operating where the recent financial crisis had begun. Subsequently, attention shifts to the European institutional context through an analysis of the evolution in the banks' corporate governance rules adopted in several countries such as Denmark, Germany, France, Italy and Spain. Reactions to the financial crisis by market participants and policy-makers in the far eastern hemisphere of the world are described by two contributions on Japanese and Malaysian banks. Finally, the examination is completed by assessing the effectiveness and efficiency of the internal and external governance mechanisms implemented by Egyptian banks and United Arab Emirates' financial institutions.
How to order: You can either pay online with the credit card, using "Order Now" button or contact us by the e-mail order@virtusinterpress.org indicating the book you want to order and the number of copies of the book. We will send you the invoice in reply.
Introduction
Contributors
Contents
A Sample Chapter
Order Form
The payment can be made with credit/debit card via secure payment system provided by Ukrainian processing center. During the payment, you will probably receive an SMS from your bank with the password to confirm the transaction. The price in Euro is an oriented one. The payment will be charged in UAH according to the exchange rate of your payment card provider. Once the payment is made we will process it ASAP and our representative will contact you to deliver the service/confirm the payment.