Inform and Deform: Do financial analysts mean what they say?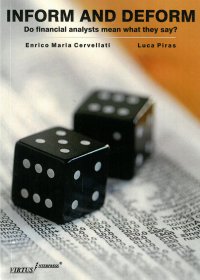 Publishing house Virtus Interpress introduces a book that describes main practices of the financial analyst activity titled "INFORM AND DEFORM: Do financial analysts mean what they say?".
ISBN: 978-966-9686-73-2
Author: Enrico Maria Cervellati Luca Piras
Published: 2012
Number of pages: 112
Cover: paperback
Synopsis: Information is important, since it is the basic ingredient of human reasoning, knowledge and, therefore, action. Particularly it is important in social behavior. Investing in the financial market is definitely a social behavior, requiring skills and expertise, which combine, generate the "art of market" as William Sharpe said. Information is a complex combination of many parts in which data, frame, language, credibility, metaphors, culture, traditions, and so on, contributes to determine individual and social decision making. Thus understanding market theory imply a profound and critical approach to information, to how it is conveyed to investors, to behavioral drivers that influence professional information providers and related biases and, finally to the way individual investors acquire and use it. The introduction in the discussion of the idea of complexity raises the need to determine the conditions for the system to seek and, eventually, to find its equilibrium. This is the final goal of economic models and theories, while in the real life, disequilibrium and chaos seem to be the rule. If this is the case a useful interpretation tool is represented by entropy. Entropy is a thermodynamic quantity representing the unavailability of a system's thermal energy for conversion into mechanical work, often interpreted as the degree of disorder or randomness in the system.
How to order: You can either pay online with the credit card, using "Order Now" button or contact us by the e-mail order@virtusinterpress.org indicating the book you want to order and the number of copies of the book. We will send you the invoice in reply.
Introduction
Contents
A Sample Chapter
Order Form
The payment can be made with credit/debit card via secure payment system provided by Ukrainian processing center. During the payment, you will probably receive an SMS from your bank with the password to confirm the transaction. The price in Euro is an oriented one. The payment will be charged in UAH according to the exchange rate of your payment card provider. Once the payment is made we will process it ASAP and our representative will contact you to deliver the service/confirm the payment.