9th International conference on banking and finance in Sumy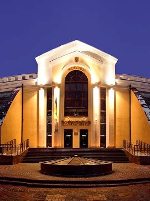 We are glad to announce the 9th International conference "International Competition in Banking: Theory and Practice" that will take place in Sumy, Ukraine on May 22, 2014.
This May experts in banking, finance, corporate governance will gather in Sumy, Ukraine to discuss important issues of the currents trends in financial markets development.
Please note that participation is free of charge. Moreover, organizers will cover expenses for: transfer from Kiev to Sumy and from Sumy to Kiev by bus; accommodation expenses and meals; gala dinner; handout materials (conference program, certificate of participation etc).
You are welcome to submit papers on the relevant topics to ukraine2014conf@virtusinterpress.org and a copy to alex_kostyuk@virtusinterpress.org by March 20, 2014.
See conference web page here.