A list of the highly cited papers in the journal Corporate Ownership and Control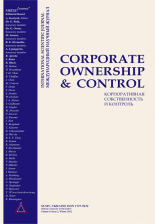 The editorial team of Publishing House "Virtus Interpress" is constantly working on updating the thematic collections of papers published in our journals in order to help our readers and scholars pursuing research find more information devoted to a certain topic within the scope of corporate governance.
Following the thematic collections, we decided to publish the list of papers that other researchers regarded as most valuable.
The list was selected based on the number of citations of the papers according to Google Scholar. The papers cover a wide range of topics belonging to the scope of the journal including shareholder activism, corporate control, corporate social responsibility, and compliance, etc.