Book review: "Challenges and opportunities in Italian corporate governance"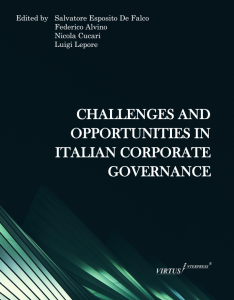 In 2019 publishing house "Virtus Interpress" introduced a book focused on the peculiarities of the national approaches to corporate governance in Italy, titled "Challenges and Opportunities in Italian Corporate Governance".
The review, authored by Udo C. Braendle (American University in Dubai, United Arab Emirates) and Alexander Kostyuk (Virtus Interpress, Ukraine), covers the mentioned book and shortly outlines the structure of the book, pays attention to its strong sides and issues that will be, by the reviewer's point of view, most interesting for the reader.
Including views of 15 contributing teams (overall, 40 contributors) from Italy the book "Challenges and Opportunities in Italian Corporate Governance" collects an ensemble of research that permits a quick look at key issues of corporate governance. It offers an overview of the Italian corporate governance landscape, highlighting the more recent and interesting challenges and opportunities for Italian companies. The book examines the corporate governance issues from different perspectives (law, business management, accounting and practitioners), assessing the progress made by Italian companies in improving corporate governance and the gaps that remain. Moreover, it presents governance issues in the widely varying perspectives of owners, boards, management, and other stakeholders to create a complete picture of the Italian corporate governance environment.
To read the review visit this webpage. Click here to find out more on the book.