Book review: "Corporate governance in emerging economies: Theory and practice"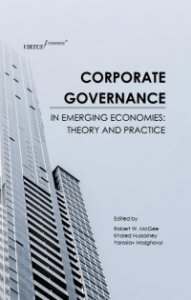 In 2018 publishing house "Virtus Interpress" introduced a book focused on the peculiarities of the national approaches to corporate governance in various emerging countries, titled "Corporate Governance in Emerging Economies: Theory and Practice".
The review, authored by Domenico Rocco Cambrea (Catholic University of the Sacred Heart, Italy), covers the mentioned book and shortly outlines the structure of the book, pays attention to its strong sides and issues that will be, by the reviewer's point of view, most interesting for the reader.
Given the increased importance of corporate governance over recent years, this book is a vital asset for practitioners, academics and policymakers alike. It represents an important contribution to the raising debate about corporate governance in ten emerging countries: Slovenia; Kuwait; Jordan; Turkey; Morocco; South Africa; Uganda; India; Malaysia and Mexico. This book is edited by a team of scholars with expertise in the field of corporate governance and emphasis on emerging markets: Robert McGee, Khaled Hussainey and Yaroslav Mozghovyi. A total of 16 co-authors (representing 10 countries) contributed to this book.
To read the review visit this webpage. Click here to find out more on the book.