CGSR Call for papers: Special COVID-issue (Updated)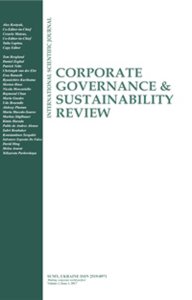 We are glad to announce that the deadline for submission to the special COVID-issue (2020) of the international peer-reviewed journal Corporate Governance and Sustainability Review has been extended upon requests of the authors who haven't submitted their papers yet and due to the fact that some papers are still under review at the moment.
The worldwide COVID-19 pandemic has impacted countries, the global economy, locked down societies and changed communities for the better, and at times, for the worse. This CGSR special issue invites submissions on theoretical and empirical contributions that look at the impact of COVID on:
corporate governance and sustainability;
neoliberalism and neo-Keynesian economic policies and models;
global governance;
business-government relationship;
business-society relationship;
board behaviour and practices;
multi-stakeholder practices;
responses by governments;
responses by institutional investors, sovereign wealth funds and other major investors;
responses by minority investors;
responses by family-owned businesses;
responses by state-owned enterprises;
the importance of technology and board practices;
role of mainstream media and social media;
environmental impact and environmental governance;
discourse of governance;
and other related issues to corporate governance and sustainability.
In order to get more information on whether your submission will fits this special issue or to submit your paper, please contact the Guest Editors:
Dr. Marie dela Rama
Marie.DelaRama@uts.edu.au
Dr. Julie Crews
j.crews@ecu.edu.au
Deadline for submission: November 1, 2020
Click here to download the updated call for papers.