COC journal: New feedback from the authors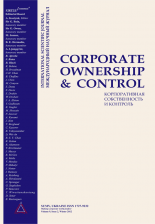 Publishing House "Virtus Interpress" continues to implement its transparency policy in terms of communication with the key stakeholders – authors. This time we would like to publish new feedback of the authors who published their papers in Corporate Ownership and Control journal.
Domenico Campa, Associate Professor of Accounting, International University of Monaco, Principality of Monaco: "Corporate Ownership and Control publishes a series of relevant topic on corporate governance topics. My experience is the journal was very positive. The communication with the journal is amazing. All parties involved in the process (e.g., the editor, the editorial assistant, etc.) are always ready to support you and reply to your queries within hours. The review process is fast and, more importantly, very constructive and aimed at improving your paper. Overall, a very good experience".
Zakaria Boulanouar, Assistant Professor, Higher College of Technology, Saudi Arabia: "I published two papers in Corporate Ownership and Control. During and after the process of both publications, I found the communication with the editor and the other Journal's associates to be timely, reasonable and constructive. The review process was very constructive and fair. The reviewers' reports were very constructive and helpful. Our responses were dealt with in a professional manner and both the editor and the reviewers were very understanding and receptive of our explanations. Thank you very much to the whole team for the whole experience".
Muneer Mohammed Saeed Al Mubarak, Associate Professor, Ahlia University, Manama, Bahrain: "Corporate Ownership and Control Journal has been consistently providing prompt feedback with a high level of effective communication led by the Editor. I have published some papers in this journal over the last few years and I have noticed the professional way of dealing and handling with authors' matters. The journal is clearly achieving its mission and efficiently implementing set policy".
Ahmed Imran Hunjra, Assistant Professor, University Institute of Management Sciences, PMAS-Arid Agriculture University Rawalpindi, Pakistan: "My overall experience with Corporate Ownership & Contol is outstanding based on the following points: 1) Response from the editor & team is very quick; 2) It's very user-friendly; 3) Fast review process; 4) Very constructive comments by Reviewers and Editorial team; 5) High-quality papers publication; 6) A very minimum time between acceptance & online publication; 7) Very friendly and committed team to resolve the query; 8) Overall process is very efficient".
More comments can be obtained here.