Conference in Lisbon: Accepted papers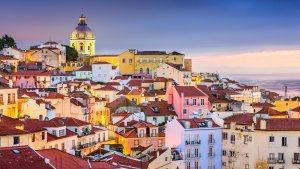 We are grateful to all researchers who have submitted their papers for the consideration of the scientific committee of the International conference"CORPORATE GOVERNANCE AND COMPANY PERFORMANCE: EXPLORING THE CHALLENGING ISSUES" to be held in Lisbon (Portugal) on October 26, 2017.
At the moment among received papers, we've selected 35 manuscripts for presentation at the conference. Researchers represent such countries as Italy, Slovenia, Spain, México, the UK, the USA and others. The conference will be divided into several parallel sections devoted to the specific research directions. Current list of accepted papers:
Matjaž Črnigoj (Slovenia) - STAKEHOLDER FIRM AND OPTIMAL CAPITAL STRUCTURE: AN ANALYSIS OF LEVERAGE ADJUSTMENT PROCESS TOWARD TARGET CAPITAL STRUCTURE IN FIRMS WITH ENTRENCHED EMPLOYEES
Hugh Grove, Mac Clouse (the USA) - NO BUYBACKS GUIDANCE IN CORPORATE GOVERNANCE PRINCIPLES
Karen Watkins-Fassler (México), Lázaro Rodríguez-Ariza, Virginia Fernández-Pérez (Spain) - BOARD CHAIR INTERLOCKS AND PERFORMANCE OF FAMILY FIRMS IN MEXICO
Konstantinos Sergakis (the UK) - LEGAL V. SOCIAL ENFORCEMENT OF SHAREHOLDER DUTIES: SHAREHOLDER AND COMPANY PERFORMANCE UNDER THREAT?
Cacilia Mesonge Kome, Ntoung A. T. Lious, Vila Biglieri Jorge Eduardo, Ben C. Outman, Masárová Eva (Spain) - THE IMPACT OF OWNERSHIP STRUCTURE ON FIRM PERFORMANCE: THE ROLE OF CHAIRMAN AND CEO IN PORTUGAL
Thomas A. Gilliam, Frank Heflin, Jeffrey S. Paterson (the USA) - REVENUE MANAGEMENT: THE USE OF ORDER BACKLOG TO BEAT REVENUE REPORTING BENCHMARKS
Giuseppina Iacoviello, Sara Trucco, Iacopo Cavallini (Italy) - COMPANY PERFORMANCE AND REPUTATION RISK IN STATE-OWNED ITALIAN LISTED COMPANIES
Hugh Grove, Mac Clouse (the USA) - WHERE WAS CORPORATE GOVERNANCE IN VALEANT'S $86 BILLION MARKET VALUE DESTRUCTION?
Kazuyuki Shimizu (Ireland) - STRUCTURAL GOVERNANCE CHANGES RELATED TO CYBERNETICS: A COMPARATIVE STUDY OF THE INDUSTRIAL IMPACT OF AN AUTOMOTIVE NAVIGATION SYSTEM USING IOT TECHNOLOGY IN GERMANY, JAPAN, AND THE USA
Andrews Owusu, Mark Holmes, Jacob Agyemang (the UK) - THE PERFORMANCE CONSEQUENCES OF BOARD STRUCTURE CHANGES: EVIDENCE FROM GHANA
Mireille Chidiac El Hajj, Richard Abou Moussa, May Chidiac (Lebanon) - BOARD GENDER DIVERSITY AND CSR IN LEBANESE BANKS: RHETORIC OR ACTION?
Sofia M. Lourenço, Iryna Alves (Portugal) - A FUZZY-SET ANALYSIS OF MANAGERS' INCENTIVES IN SMEs: THE RELATIONSHIP WITH PERFORMANCE AND SATISFACTION
Catarina Fernandes, Jorge Farinha, Francisco Vitorino Martins, Cesario Mateus (Portugal) - WHAT EXPLAINS EUROPEAN BANKS RISK-TAKING? A SIMULTANEOUS EQUATIONS APPROACH
Mamdouh Abdulaziz Saleh Al-Faryan (the UK) - THE RELATIONSHIP BETWEEN CORPORATE GOVERNANCE MECHANISMS AND THE PERFORMANCE OF SAUDI LISTED FIRMS
Iryna Alves, Sofia Lourenço (Portugal) - A CONTINGENCY FRAMEWORK FOR THE USE OF NONFINANCIAL PERFORMANCE MEASURES IN MANAGERIAL INCENTIVES: EVIDENCE FROM SMEs
Simone Terzani, Manuel Soscia, Libero Mario Mari (Italy) - OWNERSHIP CONCENTRATION AND EARNINGS QUALITY OF BANKS: RESULTS FROM A CROSS-COUNTRY ANALYSIS
Andrei Radulescu (Romania) - EQUITY RISK PREMIUM IN CEE COUNTRIES – THE CASE OF ROMANIA
Yulius Kurnia Susanto, Arya Pradipta (Indonesia) - EARNINGS MANAGEMENT, AUDIT AND QUALIFIED OPINION
Anabela Maria Pinto de Miranda Rodrigue (Portugal) - EFFECTIVE COMPLIANCE PROGRAMS AND CRIMINAL COMPLIANCE
Angela Giovinco (the USA) - CSR IN DEVELOPING COUNTRIES
Telmo Vieira (Portugal) - FIRM PERFORMANCE AND CORPORATE GOVERNANCE VARIABLES
André Luiz Carvalhal da Silva, Marie Dutordoir (Brazil) - DO STATE-OWNED ENTERPRISES HAVE WORSE GOVERNANCE? EVIDENCE FROM BRAZIL
Maria da Conceição da Costa Marques (Portugal) - EVALUATION OF INTERNAL CONTROL AND RISK MANAGEMENT PROCEDURES IN A PUBLIC ENTITY: FOCUS IN THE YEAR 2016
Shab Hundal, Shashvat Kapoor (Finland) - FINANCIAL REPORTING QUALITY IN NORDIC COUNTRIES
Victor Barros, Daniel Duarte (Portugal) - CORPORATE TAX AVOIDANCE AND PERFORMANCE FOLLOWED BY MERGERS AND ACQUISITIONS
Ana Beatriz Hernández-Lara, Juan Pablo Gonzales-Bustos, Xiaoni Li (Spain) - BOARD COMPOSITION IN FAMILY AND NON-FAMILY INNOVATIVE BUSINESSES
Oludara Akanmidu (the UK) - THE DETERRENCE THEORY: A CASE FOR ENHANCED ENFORCEMENT OF DIRECTORS' DUTIES
Maria Joao Guedes, Nuno Soares and Cristina Gaio (Portugal) - EXPLORING THE RELATIONSHIP BETWEEN GENDER DIVERSITY AND EARNINGS MANAGEMENT: DOES CRITICAL MASS MATTER?
Yerzhan Tokbolat (the UK) - CONSEQUENCES OF SHAREHOLDER VOTING ON PERFORMANCE: EVIDENCE FROM THE UK
Eric Pichet (France) - NEW FRONTIERS FOR THE BOARDS: STRATEGY AND RISK TOPICS
Collins C Ngwakwe, Regina N Magkata (South Africa) - LABOUR TURNOVER (MANAGEMENT CADRE) AND CORPORATE REVENUE: INFORMATION FOR MANAGERS' CORPORATE CONTROL
Ana Isabel Lopes, Jonas Oliveira, Ana Margarida Coelho (Portugal) - HOW RELEVANT IS INTEGRATED REPORTING
Giovanna Mariani, Alfredo Antonino Scarfò (Italy) - THE ROLE OF WOMEN IN THE BOARDROOM. A COMPANY VALUE DRIVER?
Itumeleng Pleasure Mongale (South Africa) - GOVERNANCE AND FOREIGN DIRECT INVESTMENT NEXUS