Call for Papers - Risk Governance & Control: Financial Markets & Institutions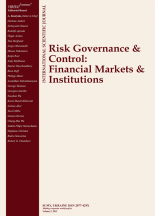 Dear Authors! We would like to draw the attention of the experts in theoretical and empirical studies in risk governance and control with a major, but not a sole focus on financial markets and institutions issues that international peer-reviewed Journal Risk Governance and Control: Financial Markets & Institutions announces a call for papers for the issue 1 of the journal to be published at the beginning of 2018.
The deadline for submissions is December 1st, 2017.
We encourage empirical and theoretical papers in the following areas:
Risk governance and control in the private and public sectors;
Finance, financial pricing, financial management;
Economics of employee benefits, pension plans;
Insurance and insurance regulation;
Asymmetric information, moral hazard, and adverse selection;
Econometric, actuarial, and statistical methodology;
Stock market development and risks;
Currency market development and risks;
Market for banks development and risks;
Financial management and innovations;
Risk capital allocation and risk budgeting;
Impact of risk measurement on portfolio allocation;
Theoretical development of alternative risk measures;
Hedging (linear and non-linear) under alternative risk measures;
Credit risk and its valuation;
Business risks;
Financial markets.
For instructions for the authors visit this page - https://www.virtusinterpress.org/Instructions-for-authors,83.html
The submissions should be sent to co-editors: Dr. Giovanna Mariani at g.mariani@virtusinterpress.org and a copy to Dr. Yulia Lapina at yu.h.lapina[at]virtusinterpress.org.