Call for chapters: Challenges and Opportunities in Italian Corporate Governance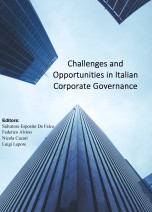 Publishing house "Virtus Interpress" announces that a new project devoted to writing a book "Challenges and Opportunities in Italian Corporate Governance".
The main purpose of this book is to analyze the Italian corporate governance from a different perspective (accounting, management, finance, law), also making comparisons with international contexts. Therefore, it is useful to show and identify best practices for the Italian firms in this new scenario and updating them, as to tackle the new challenges and to seize the opportunities raised by the evolution of capital markets and corporate practices. This book is a concise and authoritative guide to researchers and professionals and it wants to offer many ideas for discussion, focusing on some more general issues, related to the role that corporate governance can play for the purposes of company and society. It will include relevant theoretical frameworks and the latest empirical research findings in the area. It wants focuses the role of different shareholders in the dominant coalition of the company, such as the State, families, institutional investors, etc.
The book will be published by Virtus Interpress and will be promoted worldwide through the network of subscription agencies, booksellers, online platforms as well as via our international scholarly network.
Submission Procedure
Researchers and practitioners are invited to submit on or before June 30, 2018, a chapter proposal of 1,000 to 2,000 words clearly explaining the mission and concerns of his or her proposed chapter. Authors will be notified by July 15, 2018 about the status of their proposals and sent chapter guidelines. Full chapters are expected to be submitted by November 30, 2018.
All proposals should be submitted by email to: Kate Huryna, k.huryna[at]virtusinterpress.org.
All submitted chapters will be reviewed on a double-blind review basis. Contributors may also be requested to serve as reviewers for this project.
Note: There are no submission or acceptance fees for manuscripts submitted to this book publication. All manuscripts are accepted based on a double-blind peer review editorial process.
The book will be edited by Prof. Salvatore Esposito De Falco, Sapienza University of Rome; Prof. Federico Alvino, Parthenope University of Naples; Dr. Nicola Cucari, University of Salerno; Prof. Luigi Lepore, Parthenope University of Naples.
Important Dates
June 30, 2018: Proposal Submission Deadline
July 15, 2018: Notification of Acceptance
November 30, 2018: Full Chapter Submission
Please, address your questions about this book to co-editor Dr. Nicola Cucari at ncucari[at]unisa.it or book manager - Kateryna Huryna at k.huryna[at]virtusinterpress.org.
A detailed call for chapters with all relevant information can be downloaded in PDF here.