Conference dinner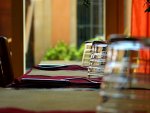 The conference dinner will be hosted by Leopolda Stazione di Restoro that is situated at the old entrance to the historic Leopolda Railway Station in Piazza Guerazzi.
The place has it's own interesting story.
Once upon a time there was an unused station on the Leopolda line that joined Pisa and Livorno that became a busy marketplace selling fruit and vegetables. In the rooms that today house the Leopolda Restaurant there was also a bar...
The bar was run by Nina and Luciano, who began their day at 5am by serving up plates of soup to the hungry market-workers. First it was soup, then cod, then tripe; dishes that became famous in the city of Pisa. The market moved elsewhere in 1993, Nina and Luciano sold the bar, which was run for a few years after by the "twins", and then Stefania Castaldo turned Leopolda Station into the restaurant it is today.
Stefania loves being in the kitchen, and she is happy to have inherited the history of this special place, a story that she tells in the language she knows best: the language of flavours and aromas, of food and wine.
Pisa
p.zza guerrazzi c/o Stazione storica leopolda