Conference in Lüneburg: Report and concluding remarks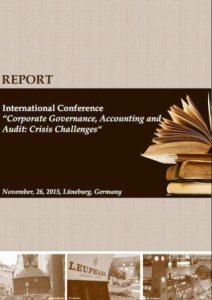 We are grateful to all the participants of the International conference "Corporate Governance, Accounting and Audit: Crisis Challenges" that took place in Lüneburg on November 26, 2015 for their valuable contribution to the development of the corporate governance, accounting and auditing research on the international scale and for joining our network of devoted professionals.
We were happy to see our friends and partners from all over the world, representing different cultures, countries with different law and economic systems, who created a unique atmosphere of the conference. We are also grateful to the conference's German host and co-chair of the event - Prof. Patrick Velte from Leuphana University of Lüneburg.
We are glad to publish here report from the conference. It contains information about key-note speeches and parallel sessions. To read the report please visit this page.
As a small reminder comes information about the opportunity to publish conference papers (after additional review) in the special issue of the Corporate Ownership and Control journal. Please submit relevant manuscripts to Prof. Kostyuk at alex_kostyuk[at]virtusinterpress.org. For instructions to the authors and reviewing process visit this and this page.
We welcome members of our network to follow the activity of the Virtus Global Center for Corporate Governance and join our events.