Conference in Milan 2014: a call for papers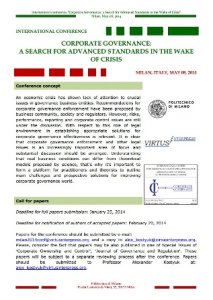 We are glad to present you a call for papers for the International conference: "Corporate Governance: a Search for Advanced Standards in the Wake of Crisis" that will take place at the Politecnico di Milano (Milan, Italy) on May 8, 2014.
Call for papers consists of concept of the event, key deadlines and guidance for paper submissions, key topics, information about key-note speakers and conference chairs, members of the scientific committee and conference registration fee.
Please proceed here to download call for papers.
More information is also available on the conference web page.
Academicians and practitioners who are interested in the scope of the conference topics are welcome to submit papers within announced deadlines.
Please note that this time the number of papers that will be accepted for the conference is limited, so we recommend you to inform us about your intention to participate beforehand by registering here or by writing to Dmitriy Govorun at dmitriy.govorun(at)virtusinterpress.org.
We are looking forward for a fruitful and interesting gathering of experts in the field of finance and corporate governance!