Conference in Milan: Sponsorship Opportunities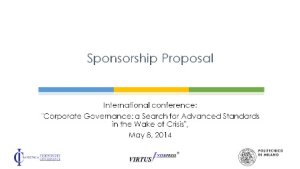 To provide promotional opportunities for the companies and to support research initiatives in the sphere of corporate governance we've decided to launch a call for sponsors for the International conference in Milan.
We are open to any cooperation with companies that are willing to promote development of corporate governance standards, foster international research cooperation and reinforce their reputation.
If you are interested in the promotional opportunities connected to our conference please take a look at our Sponsorship proposal here.