Conference in Paris: Concluding Remarks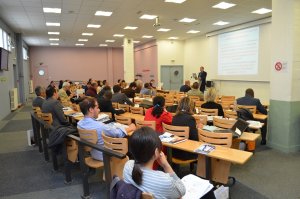 We are grateful to all of the participants of the International conference "Corporate and Institutional Innovations in Finance and Governance" that took place in Paris on May 21, 2015 for their valuable contribution to the development of the corporate governance and finance research on the international scale and for joining our network of devoted professionals.
We were happy to see our friends and partners from all over the world, representing different cultures, countries with different law and economic systems, who created a unique atmosphere of the conference. We are also grateful to our French host and co-chair of the conference Remi Jardat, representing ISTEC Paris for adding a great French flavor to the event.
We were especially glad to hold several negotiations and to receive proposals from our partners concerning the possibility of arranging future conferences on the issues connected to corporate governance:
In Milan together with Prof. Roberta Provasi from the University of Milan Biocca and Prof. Patrizia Riva from the University of Eastern Piedmont (Italy) in May 2016;
In Leipzig together with Dr. Christian Kretzmann from HHL Leipzig Graduate School of Management (Germany) in Fall 2016;
In Barcelona together with Marta Grañó from ESADE business and law school (Spain) in Fall 2017;
And also in South Africa (Prof. Jacobus Young) and in Ljubljana (Prof. Rado Bohinc).
We are currently considering mentioned opportunities and continue negotiations with our partners. We will publish information at the Virtus Interpress web page as soon as the main parameters of future events are approved.
A report from the conference and PhD seminar in Paris together with the pictures will be published on the web page of the conference and in Facebook within two weeks.
We look forward to meeting you at our next conferences!