Conference proceedings book has been released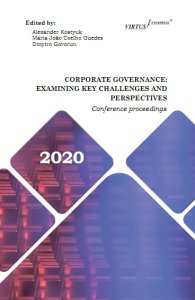 Publishing House Virtus Interpress is pleased to announce that the conference proceedings book titled "Corporate Governance: Examining Key Challenges and Perspectives" edited by Alexander Kostyuk, Maria João Coelho Guedes, Dmytro Govorun has been released.
Due to the COVID-19 pandemic spreading throughout the world, the online mode of the conference made it possible for scholars from more than 20 countries to feel tuned to the network discussion that is a major value of the scholarly research. The papers presented at the conference are devoted to a variety of corporate governance issues, such as board of directors, ownership structures, accounting, auditing and taxation, general issues of corporate governance, etc.
The structure of this conference proceedings book is very innovative as it presents not only the materials of the conference presenters but also the full list of comments generated by the conference participants during the forum discussion. The conference infographics at the end of the book presents very useful analytics about the conference.
You can preview and order the conference proceedings book here.