Cooperation with Board Prospects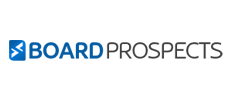 A new partnership was established between Virtus Interpress and BoardProspects.com - the World's Largest Online Boardroom Community. Cooperation was initiated by Prof. Alex Kostyuk and founder of BoardProspects - Mark Rogers.
BoardProspects has more than 8,000 Members from more than
70 countries across the world — representing an extraordinarily
high-value constituency. The membership of BoardProspects includes
chief executives and board members of Fortune 100 companies,
current/former board members and c-suite executives of publicly traded
companies, university presidents, corporate secretaries, former
members of U.S. Congress and retired military leaders and federal
judges. BoardProspects' membership includes current board members from
such companies as: Microsoft, Morgan Stanley, Procter & Gamble, Fannie
Mae, E-Trade, Adidas, Gap, Jet Blue, Aetna, MassMutual, State Street,
Coca-Cola, Marriott International, Xerox, Electronic Arts, Hyatt
Hotels International, Avis Budget, General Motors and Bank of America.
For more information please visit this page.