Corporate Governance Experts Global Repository: An Update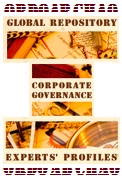 The team of Virtus Interpress is glad to inform that the Global Repository network is growing. Initiated back in 2016, Global Repository of Corporate Governance Experts provides the opportunity for corporate governance experts worldwide to be a part of the international group of scholars with similar research interests.
At the moment nearly 1135 experts from more than 77 countries joined our repository. We surely expect that the number of members of the Repository will increase.
We continue inviting the authors and other experts in corporate governance to join our repository. Application for inclusion in the Repository is FREE of CHARGE.
If you are interested in the inclusion of your profile into the repository please contact us at d.chorna[at]virtusinterpress.org
We would be happy to have more CG experts worldwide in our network.
We also provide access for a full profile of other experts for a nominal fee in the amount of 10 EUR per year. If you are interested you can subscribe to the Repository annual access.
You can pay online with the credit card, using "Pay Now" button.
The payment can be made with credit/debit card via secure payment system provided by Ukrainian processing center. During the payment, you will probably receive an SMS from your bank with the password to confirm the transaction. The price in Euro is an oriented one. The payment will be charged in UAH according to the exchange rate of your payment card provider. Once the payment is made we will process it ASAP and our representative will contact you to deliver the service/confirm the payment.