Corporate Governance and Sustainability Review: New Journal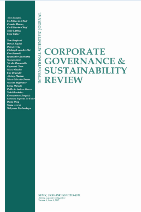 Publishing house "Virtus Interpress" is launching a new international journal in cooperation with the University of Greenwich (London, United Kingdom).
The journal is titled "Corporate Governance and Sustainability Review".
The journal covers a range of topics within the main theme:
Business ethics
Sustainable finance
Corporate Governance and Reporting
Accounting and disclosure
Corporate Social Responsibility
Stakeholder's engagement
Performance measurement and management control
Cash flows and earning management
Ethical, social and governance (ESG) factors
Integrated reporting
Shareholder activism, shareholder protection and valuation effects
Socially responsible investing
Fraud and accounting scandals
The journal will be co-edited by Prof. Alexander Kostyuk, Virtus Global Center for Corporate Governance and Prof. Cesario Mateus, University of Greenwich. Dr. Yulia Lapina will perform functions of the Copy Editor of the journal.
During the first year the journal will be issued 2 times per year. We would like to highlight that there will be no fee for the authors to publish their papers in the journal. All expenses will be covered by the founding parties of the Journal.
The journal was already assigned with the ISSN numbers: ISSN 2519-898X (Online), ISSN 2519-8971 (Print).
The Editorial Board will consist of 40-45 experts representing various geographical markets and schools of research within the theme of the journal.
We've already received agreements of the experts listed below to become Editorial Board members of the Journal: Prof. Tom Berglund (Hanken School of Economics, Finland), Prof. Daniel Zeghal (University of Ottawa, Canada), Prof. Alex Stojanovic (University of Greenwich, UK), Prof. Patrick Velte (Leuphana University, Germany), Prof. van der Elst (Tilburg University, Netherlands), Prof. Ewa Banasik (Swinburne University, Australia), Prof. Ryuuichiro Kurihama (Aichi University, Japan), Prof. Thomas Hall (Joseph W. Luter, III School of Business, USA), Prof. Nicola Moscariello (University of Campania "Luigi Vanvitelli", Italy), Prof. Raymond Siu Yeung Chan (Hong Kong Baptist University, Hong Kong), Prof. Maria Guedes (ISEG, Portugal), Prof. Morten Huse (BI Norwegian Business School, Norway), Dr. Irina B. Mateus (University of Greenwich, UK), Prof. Udo Braendle (American University in Dubai, UAE), Prof. Douglas Cumming (York University, Canada), Prof. Aleksey Plastun (SSU, Ukraine), Prof. Diana Lewe van Aduard de Macedo-Soares (Pontifical Catholic University of Rio de Janeiro, Brazil), Prof. Markus Stiglbauer (Campus M21 University, Germany), Prof. Kimie Harada (Chuo University, Japan), Prof. Jorge Farinha (University of Porto, Portugal), Prof. Pablo de Andrés Alonso (Universidad Autónoma de Madrid, Spain), Prof. Sabri Boubaker (Champagne School of Management, France), Prof. Salvatore Esposito De Falco (Università di Roma "La Sapienza, Italy), Prof. Konstantinos Sergakis, University of Glasgow (UK), Prof. David Ding (Lee Kong Chian School of Business, Singapore), Prof. Melsa Ararat (Sabanci University, Turkey), Dr. Yelizaveta Pavlovskaya (VGCCG, Ukraine), Dr. Sofía López-Rodríguez (SKEMA Business School, France).
All submissions or queries with regard to the journal can be addressed to Prof. Alex Kostyuk at alex_kostyuk [at] virtusinterpress.org or Prof. Cesario Mateus at C.Mateus [at] greenwich.ac.uk