Corporate Governance and Sustainability Review: a call for papers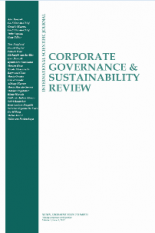 We would like to draw attention of the experts in governance and sustainability with application to both macro and microeconomic issues that international peer-reviewed journal Corporate Governance and Sustainability Review announces a call for papers for the issues of the journal in the second half of 2017.
Important dates:
It is expected that the journal issue will be published by December 1, 2017.
The deadline for submissions is September 1, 2017.
We encourage empirical and conceptual papers in the following areas:
Business ethics
Sustainable finance
Corporate Governance and Reporting
Accounting and disclosure
Corporate Social Responsibility
Stakeholder's engagement
Performance measurement and management control
Cash flows and earning management
Ethical, social and governance (ESG) factors
Integrated reporting
Shareholder activism, shareholder protection and valuation effects
Socially responsible investing
Fraud and accounting scandals
For instructions for the authors please visit this page.
Papers must be written in English. Submit a paper to the editor Alex Kostyuk by e-mail: alex_kostyuk [at] virtusinterpress.org and a copy to copy-editor Yulia Lapina - yu.h.lapina [at] virtusinterpress.org