Corporate Governance: new challenges and opportunities: a book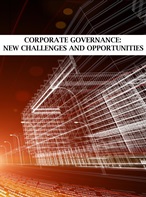 At the beginning of the year, the publishing house "Virtus Interpress" has initiated a new project on writing a book "Corporate Governance: New Challenges and Opportunities".
Since the crisis of 2008, the companies worldwide have faced many challenges which are reflected in the changing corporate governance landscape. Therefore, we have invited researchers to contribute to the book about national CG challenges and industrial CG challenges as well.
We are glad to announce that we are receiving chapters from the contributors of the book. The manuscripts have already been submitted for the review.
We would like to remind that 20 teams of contributors, each representing their country, will contribute by describing the main issues of the corporate governance and outlining the fundamental aspects:
Anna Tilba, the UK
C.L.M. Hermes, Niels Hermes and Kees van Veen, the Netherlands
Dilvin Taskin, Turkey
Doriana Cucinelli and Danilo Mascia, Italy
Ehab Kamel Abou-Elkheir and Mohamed A. K. Basuony, Egypt
Elena Merino and Montserrat Manzaneque, Spain
Fadi Alkarran, Ireland
Fumiko Takeda, Japan
Georgia Kontogeorga, Greece
Germain Laurent and Emilie Bonhoure, France
Harrit Satt, Morocco
Helen Roberts and Michelle Li, New Zealand
Ikäheimo Seppo, Finland
Inês Margarida Cadima Lisboa, Nuno Teixeira and Maria Clara Monteiro, Portugal
Jimmy Agustin Saravia Matus and Sandra Gaitan, Colombia
Mark Wickham and Kim Backhouse, Australia
Norsiah Ahmad and Zalailah Salleh, Malaysia
Raef Gouiaa, Canada
Romora E. Sitorus and William L. Megginson, the USA
Timurs Umans, Elin Smith and Andreas Jansson, Sweden
We expect that the book will be published in November, 2017. It will be edited by Dr. Vincenzo Capizzi, Dr. Udo Braendle and Dr. Alex Kostyuk.