Corporate Ownership & Control: a call for papers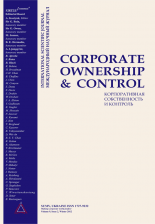 We would like to draw attention of the experts in theoretical and empirical studies in corporate governance that international peer reviewed journal Corporate Ownership & Control announces call for papers for the issues of the journal in the second half of 2017.
Important dates:
It is expected that the journal issues will be published by October 1, 2017 and December 1, 2017.
The deadline for submissions is June 15, 2017.
We encourage empirical and conceptual papers in the following areas:
Ownership structure
Mergers, acquisitions, restructuring
Bankruptcy, liquidation procedures
Corporate social responsibility and compliance
Disclosure and transparency issues
Corporate governance in family firms
Corporate governance in financial institutions
Corporate control
Earnings management
Managerial incentives
Payout/dividend policy
Financial reporting
Auditing
Board of directors' practices
Shareholders' rights
Corporate governance and firm performance
For instructions for the authors see this page.
Papers must be written in English. Submit a paper to the editor by e-mail: alex_kostyuk[at]virtusinterpress.org and a copy to the editorial assistant at k.huryna[at]virtusinterpress.org.