Corporate Ownership and Control journal: call for papers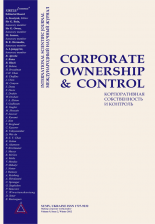 We would like to draw attention of the experts in the fields of corporate governance and finance that international peer reviewed journal Corporate Ownership and Control announces call for papers for the 3rd issue (spring) of the journal in 2017.
Important dates :
It is expected that the journal issue will be published by July 1st 2017.
The deadline for submissions is April 1st 2017.
We encourage empirical and conceptual papers in the following areas :
Payout/dividend policy
Capital and ownership structure
Mergers, acquisitions, restructuring
Bankruptcy, liquidation procedures
Corporate social responsibility and compliance
Disclosure and transparency issues
Corporate governance in family firms
Corporate governance in financial institutions
Corporate control
Earnings management
Managerial incentives
For instructions for the authors visit this page.
The submissions should be sent as Ms Word files to the Editor in Chief of the journal – Prof. Alex Kostyuk at alex_kostyuk[at]virtusinterpress.org.