Corporate Ownership and Control: call for papers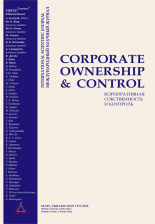 We would like to draw the attention of the experts in theoretical and empirical studies in risk governance and control with application to financial markets and institutions that international peer-reviewed journal Corporate Ownership and Control announces call for papers for the upcoming issue of the journal in 2018. The deadline for the paper submission is August, 20.
Corporate Ownership and Control journal is devoted to the problems in the corporate governance appearing as a result of both well-known "separation of ownership and control" problem and new ones such as privatization of the state property, globalization of capital market and other macroeconomic processes.
The journal is published by the rolling model. This means, that as soon as a paper is accepted for publication, we initiate typesetting procedures. After the approval of the paper layout by the corresponding author, we add the paper to the current issue of the journal online.
We encourage empirical and conceptual papers in the following areas:
Ownership structure
Mergers, acquisitions, restructuring
Bankruptcy, liquidation procedures
Corporate social responsibility and compliance
Disclosure and transparency issues
Corporate governance in family firms
Corporate governance in financial institutions
Corporate control
Earnings management
Managerial incentives
Payout/dividend policy
Financial reporting
Auditing
Board of directors' practices
Shareholders' rights
Shareholder activism
Corporate political involvement and corporate governance
Corruption, corporate governance and firm performance
Corporate governance and firm performance
Corporate Governance and performance of family firms
Corporate governance and performance of the global firms
International and comparative corporate governance
For more information visit instructions for the authors section.
You can submit a paper to the editor by e-mail: alex_kostyuk@virtusinterpress.org and a copy to the managing editor at k.huryna@virtusinterpress.org.
The paper must be submitted in a form of MS word or LaTeX file.