Happy New 2020 Year!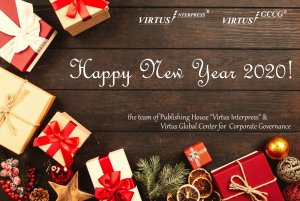 The team of the publishing house "Virtus Interpress" would like to address our best wishes to our large international network of experts in corporate governance. We hope that year 2020 will be successful for you and open the new horizons of cooperation.
Our team will be always ready to meet all your requests and proposals as it was in 2019. This year we've fulfilled several interesting projects in conference organization, book publishing and continued to enhance our services connected to the publishing of 8 international journals.
More details can be found in our Annual Report.
We will continue implementing the best publishing practices in our activity in order to establish the most reliable cooperation with our stakeholders.
To follow our activity – check our web page for the updates.
We wish you a Happy New 2020 Year!
Virtus Interpress team