Happy New Year!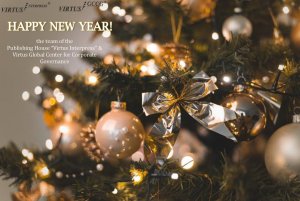 With most bright hopes and expectations about 2019 we wish you Happy New Year!
The team of the publishing house "Virtus Interpress" would like to extend the best wishes to our large international network of experts in corporate governance. We thank you for the time and efforts and hope that year 2019 will be successful for you and open the new horizons of cooperation.
We`d like to mentioned that the 2018 year was very fruitful and eventful for us, that is the result of intensive work of our editorial team, network of Editors, reviewers, partners and colleagues all over the world.
Our team is happy to present the newly launched content browsing platform called Virtus Scholar. The aim of the platform is to provide our readers with a helpful tool that will make the information search process easier and more efficient. With Virtus Scholar it has become possible to browse a specific journal(s), books and even the news section. You can simply type in the keyword and choose the search area from the dropdown list. The editorial team of Virtus Interpress is constantly working on updating the thematic collections of papers, where scholars can find plenty of articles on various topics within the scope of corporate governance.
This year a set of 3 books on corporate governance has been published: "Corporate Governance: New Challenges and Opportunities" (edited by Professor Vincenzo Capizzi, Professor Udo Braendle and Professor Alex Kostyuk), "Corporate Governance in Emerging Economies: Theory and Practice" (edited by Prof. Robert W. McGee, Prof. Khaled Hussainey and Dr. Yaroslav Mozghovyi) and "Corporate Governance in Arab Countries: Specifics & Outlooks" (edited by Prof. Dima Jamali, Prof. Virginia Bodolica and Dr. Yulia Lapina).
The editorial team is glad to announce that Virtus Interpress has initiated several book projects: "Board of directors and company performance: An international outlook", "Challenges and Opportunities in Italian Corporate Governance" and "Corporate Ownership and Control: international trends" which are due to be published in 2019.
On the 27th of February the International conference "Corporate governance, ownership and control" took place in one of the most-visited cities in the world, at the Sapienza University, Rome with the organizational participation of Department of Management led by Prof. Salvatore Esposito De Falco and Virtus Global Center for Corporate Governance. Participants from Europe, Asia, Africa and Oceania gathered with the aim to take part in the conference.
On the 11th of October another International conference "Corporate governance: a new perspective in scholarly research" was organized by Virtus Global Center for Corporate Governance in cooperation with Yasar University in a picturesque city of Izmir, Turkey.
Next year we will arrange several interesting international events connected to the issues of corporate governance: conferences in Rome (February 28, 2019), one more conference in Europe and will be happy to see members of our network at these events.
We are proud to be part of such a great network of devoted experts and will continue developing it next year.
Wishing you a prosperous New 2019 Year!
Virtus Interpress team