Humanitarian help for soldiers from Sumy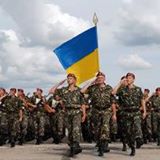 Due to recent splash of military aggression of Russia against Ukraine and pro-russian terrorists' activity in Donetsk and Lugansk regions of Ukraine there was announced a partial mobilization to the military forces of Ukraine. Many young and old men also volunteered to become soldiers to protect their families and Motherland.
Unfortunately due to the corruption in recent years Ukrainian army became in a very hard situation. Due to bureaucracy and other obstacles those who were mobilized and sent in the Eastern Ukraine to monitor and protect border with Russia or watch block posts against terrorists' activity and foreign invasion, do not have decent supply and a lot of basic necessities. For example majority of soldiers do not have body armor, helmets, sleeping bags, medicine etc.
People from all over Ukraine joined their efforts to help those guys who risk their lives and are on duty in Donetsk and Lugansk regions. So people from Sumy started an initiative of helping soldiers (who were mobilized from Sumy), to supply them with essential protection and other things needed for survival. Our International Center for Banking and Corporate Governance being part of both big international academic community and small Sumy academic community also joined this initiative. We collect money and goods, buy sleeping bags and other staff. We have direct contacts with our soldiers so we are able to receive information about what they need most.
We've decided that our friends and partners from international community might be interested in joining this noble initiative but do not know how to do this. Any help: financial, organizational or material would be highly appreciated.
If you would like to transfer some financial help or help in some other way please contact Yaroslav Mozghovyi at mozghovyi[at]virtusinterpress.org to know details how to do this. We guarantee full transparency and accountability of this initiative.