International conference in Hong Kong: closing remarks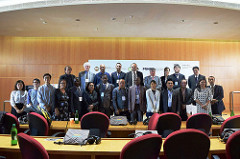 On the 4th of May 2017 the International conference "Corporate Governance and Sustainable Development – Industries, Higher Education, NGOs" took place in Hong Kong at the Hang Seng Management of College with the organizational participation of Prof. Shirley Yeung, Director of the Centre for Corporate Sustainability and Innovations (CCSI), Publishing House "Virtus Interpress" and Virtus Global Center for Corporate Governance.
Participants from 10 countries (including Hong Kong, USA, Indonesia, Japan, South Africa, Ukraine, Thailand, the UK, UAE, France), representing 3 continents and 4 parts of the world gathered at the beautiful conference venue to discuss relevant issues of corporate governance and sustainability, share their most recent research and come up with the solutions of the existing academic and practical problems.
Key-note speeches were delivered by Prof. Hugh Grove from the University of Denver, USA and Prof. Andy Hor from the Hong Kong University. Plenary part was also continued with the insightful practitioner's view of Mr. Kobsidthi Silpachai who has extensive executive experience in the leading world financial institutions, as well as by the deep academic founding of Prof. Mac Clouse from Reiman School of Finance, University of Denver, USA and Prof. Hyonok Kim, Faculty of Business Administration, Tokyo Keizai University, Japan.
Afterwards the conference was divided into two parallel sessions connected to the various problems of corporate governance, disclosure, reporting and sustainability.
Organizers would like to express gratitude to all of the participants who came to the conference from far away to share their ideas, experience and research. In our digitalized world face-to-face communication becomes a rare opportunity to come up with cumulative solutions and generating new knowledge for future development and enhancement.
This was our first experience of the conference organization in Asia since the participation of the Corporate Ownership and Control journal as an official publication of the 2008 International Conference on Corporate Governance and Financial Integration (Taipei).
We will continue to develop the further cooperation with the region.
Photos from the Hong Kong conference are available here.
Conference report will follow and separate news will be published.