International conference in Lisbon: Report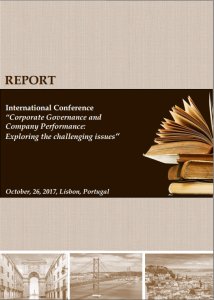 We are glad to present the report from the International conference "CORPORATE GOVERNANCE AND COMPANY PERFORMANCE: EXPLORING THE CHALLENGING ISSUES" that took place in Lisbon on October 26, 2017 and was co-organised by ISEG and Virtus Global Center for Corporate Governance.
The conference report contains a short overview of the presentations and results of the research presented by the participants.
We would like to express our gratitude to all participants and members of the organizing committee for their contribution to this scientific event. We hope to continue such projects in the future and to maintain contacts with our international network.
To view the report please visit this page.
We are glad to recommend to members of our international research network to join the international conference "CORPORATE GOVERNANCE, OWNERSHIP AND CONTROL" to be held at one of the biggest European Universities - Sapienza University of Rome in Rome, Italy on February 27, 2018.
The submission deadline is December 1st, 2017.