JGR: Feedback from the authors and reviewers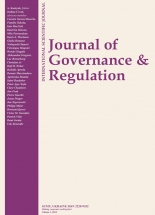 High-quality review and authors satisfaction always were and stay among the highest priorities for the editorial team of the Journal of Governance and Regulation. We do our best to maintain and develop our network of professionals and experts in various fields connected to governance, regulation, finance.
This relationship allows us to provide high-quality blind review for all papers that were submitted to our journals and passed the initial check by the editorial team.
We continue our transparency initiative with this regard and publish some new feedback from our reviewers and authors. The comments are available below:
Feedback from the authors:
Dr. Yudha Aryo Sudibyo, Faculty of Economics & Business, Jenderal Soedirman University, Indonesia: "My articles have been published in this publisher several times, and the editorial team worked quickly and very responsive. The reviewers gave comments, which could improve the article quality, they worked very professionally. I really appreciate the completeness of reviewing process and reports related to language and the paper contents."
Ken Miyajima, Senior Economist, International Monetary Fund, USA: "From the first submission to publication, the entire process was very effective. We appreciated clear and timely communication throughout. The excellent review comments helped enhance the quality of the manuscript."
Dr. Antonia Rosa Gurrieri, University of Foggia, Italy: "Collaboration with JGR is very positive for experts scholars. The possibility of interaction with anonymous experts' referees seems productive in a growth perspective. Moreover, before and after acceptance, cooperation with Editorial Team is very efficient, in terms of rapidity and quality."
Other comments are available here.
Feedback from the reviewers:
Dr. Marina Nehme, Director of Learning and Teaching, Faculty of Law, UNSW Law, Australia: "It was a pleasure to review a paper for the Journal of Governance and Regulation. The requirement for reviewing the paper were clear. The form used was simple and to the point. It covered key issues that referees usually comment on. The communication with the team was very good. The timeframe for review was also generous."
Dr. Aandrea Sacco, LINK University of Rome, Italy: "I am very pleased to act as a Reviewer for the Journal of Governance and Regulation. In my opinion, the reviewing process is very efficient and well-organized thanks to the Editor's great responsiveness and to the support offered by the entire editorial team. In addition, even if quite fast, the whole process is accurate and guarantees high-quality standards. I appreciate very much this experience and I wish to cooperate with the Journal also in the future".
Other comments are available here.
Authors, who intend to submit their papers to the journal can read instructions here.