Journal "Corporate Governance and Sustainability Review": Volume 2, Issue 2 has been published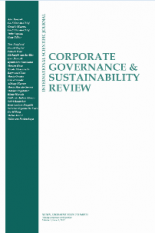 We are pleased to present the new issue of the journal "Corporate Governance and Sustainability Review" in 2018. This issue includes interesting articles concerning corporate governance and the value of family-owned businesses, cooperative banks' M&A, CG and sustainability for businesses and for social development etc.
Sabeen Sikandar and Waqas Mahmood investigate the relationship between practices of corporate governance in family-owned firms operating in cement sector, listed in Pakistan Stock Exchange (PSX) with their value (firm value). Results indicate a positive relationship between firm value and corporate governance metrics, and closely consistent with a number of researches in the similar geographical framework. It has been however recommended for future researchers to have a deeper view of a firm's performance metrics in the cement industry keeping in view the gigantic projects upcoming.
Kimie Harada examines the performances of Japanese cooperative banks (Shinkin) during the merger waves from 1994 to 2003. Not only were there a large number of mergers, but these bank mergers were complicated during the sample period compared to another type of banking institutions. The findings suggest that the consolidation of banks could be an effective measure as a strategy to exist.
Shirley Mo-Ching Yeung, Chloe Ko and Heidi Leung review visually re-design service processes for quality sustainable development. The findings are of managerial relevant to sustainable development mindset, responsible management education and service design, validation of the E-platform with on-going quantitative and qualitative data are required for a holistic view of building a sustainable development mindset with innovative integration of ecotourism processes.
Hugh Grove and Mac Clouse provide a summary of current sustainability issues and trends of ESG reporting companies which register higher financial returns than their non-ESG reporting competitors. Currently, a majority of S&P 500 companies have publicly disclosed their sustainability performances with Environmental, Social, and Governance (ESG) metrics. These ESG reporting companies had higher financial returns than their non-ESG reporting competitors. As gatekeepers for investors and other stakeholders, Boards of Directors should pay attention to these sustainability trends, related company performances, and opportunities for future company performance which should strengthen corporate governance.
Mireille Chidiac El Hajj determines the importance of a corporate governance system for a sustainable social and political development in Lebanese experience. The study found that in a complex social context, such as Lebanon, shifting to a new standpoint requires different factors. A new and sound Lebanese economic model coupled with proper governance and stability in the country may emerge from a bottom-up reform, if well implemented. The challenge is to find if this may be another missed opportunity.
To access the issue of the journal visit this page.
There are 2 issues of the journal "Corporate Governance and Sustainability Review" per year. Currently, we call for papers for the next issue of the journal. For instructions for authors please visit this page.
We hope that you will enjoy reading the journal and in future we will receive new papers, outlining the most important issues and best practices of governance and sustainability!