Journal of Governance and Regulation: a call for papers, 2017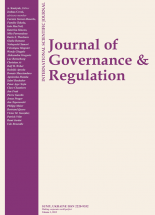 We would like to draw the attention of the experts in the fields of governance and regulation that international peer-reviewed Journal of Governance and Regulation announces a call for papers for the issue of the journal to be published at the end of 2017.
The deadline for submissions is October 15th, 2017.
We encourage submissions in the following areas:
Bank and financial company governance;
Banking regulation;
Blockchain and regulatory initiatives;
Corporate governance reforms and financial crises;
Corporate law and financial crises;
Corporate social responsibility and corporate governance;
Crowdfunding platforms, governance and regulation;
Currency regulation;
Financial market regulation;
Foreign trade regulation;
International financial reporting standards (IFRS).
International regulatory institutions;
Labour market regulation;
Micro and macroeconomic effects of regulation
Social-economic outcomes of the regulatory reforms;
State regulation;
For instructions for the authors visit this page.
The submissions should be sent to co-editors: Dr. Markus Stiglbauer at m.stiglbauer[at]virtusinterpress.org and a copy to Dr. Yaroslav Mozghovyi at mozghovyi[at]virtusinterpress.org.