Key-note speaker at the conference in Paris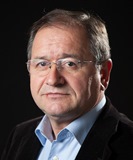 We are glad to announce that Prof. Rado Bohinc, representing Ljubljana University (Slovenia) agreed to make a key-note speech at the International conference "Corporate and Institutional Innovations in Finance and Governance" that will take place in Paris on May 21, 2015.
Prof. Bohinc is an experiences top-level politician and know expert in the field of corporate law and governance. He is going to make a speech on the recent trends and developments in the corporate governance of EU countries.
To know more about the key-note speakers in Paris please visit this page.