Key-note speakers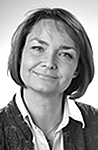 Ania Zalewska is Professor of Finance at the School of Management, University of Bath, UK; Visiting Scholar of the Haas School of Business, University of California, Berkeley, USA. Her research topics include: corporate finance (privatization, valuation and performance of initial public offerings, modelling and estimation of market risk); corporate governance (managerial incentives, capital and ownership structure, regulation); emerging markets (development, integration and efficiency); pension funds (impact of pension reforms on the development of financial markets, pension reforms in transition economies).
She is author of numerous papers in the leading referred journals, among them are: Journal of Empirical Finance, Business History, Economic Journal, Economics Letters, Journal of Financial Economics. Ania Zalewska is the Director of the Centre for Governance and Regulation (CGR) at the School of Management, University of Bath; Member of the Board of Directors of the European Financial Management Association (EFMA); Director-at-Large of the Multinational Finance Society (MFS); Associate Editor of the Journal of Banking and Finance (JBF); Guest Editor of the Special Issue of the Journal of Empirical Finance; Organizer of the international conferences on corporate governance.
Prof. Zalewska is consulting as an expert academic advisor for: Financial Services Authority (FSA), London; Competition Commission, London; Her Majesty Revenue and Customs (HMRC), London; National Economic Research Associates (NERA), London.
Topic of her speech will be: to be updated...
—

Philip Weights, Chief Auditor, EFG International / EFG Bank (Switzerland). Philip Weights has 50 years solid international experience within the banking industry. Experienced Chief Auditor and consultant and a highly self-motivated self-starter. High profile individual dealing at the level of the Board of Directors, Audit Committee, and Risk Committee.
He is well qualified, technically and professionally, in all aspects of auditing, corporate governance, risk management and quality management systems.
Currently he is Chief Auditor for a Swiss private banking group with CHF 80 billion of client assets under management. Managing a global internal audit team responsible for performing audits of private banking, corporate governance, risk management, global compliance, "high risk" client relationships, anti-money laundering controls, compliance with Swiss banking and local regulations, account opening and client due diligence, discretionary portfolio management, hedge funds, treasury and trading, credit lending, transaction testing, accounting and finance, human resources and procurement. Locations include Geneva, Zurich, Luxembourg, Monaco, Liechtenstein, Nassau, Cayman Islands, London, Miami, Channel Islands, Hong Kong, Singapore Taiwan, Latin America. Implemented an internal audit quality control process for compliance with the IIA Standard 1310 Quality Program Assessments.
At the conference Mr. Philip Weights will make a speech on Banking Governance Consulting & Audit from the practical point of view. His CV is available here.