Keynote Speakers
Donato Masciandaro, Professor of Economics, Chair in Economics of Financial Regulation, Director, Paolo Baffi Centre on Central Banking and Financial Regulation, Bocconi University, Italy

Donato Masciandaro, is Full Professor of Economics, Chair in Economics of Financial Regulation, at Bocconi University. Formerly Head of the Department of Economics, he is Director of the Paolo Baffi Centre on Central Banking and Financial Regulation and Member of the Management Council of SUERF (Sociètè Universitarie Europèenne de Recherches Financières). He is Associated Editor of the Journal of Financial Stability.
His work has covered three main topics: central banking, financial regulation and supervision, illegal financial markets. His two most recent books are: The Handbook of Central Banking, Financial Regulation and Supervision after the Financial Crisis, (ed.), Edward Elgar, Cheltenham, 2011, (with Sylvester Eijffinger) forth.; Designing Financial Supervision Institutions: Independence, Accountability and Governance, (ed.), 2007, Edward Elgar, Cheltenham (with M. Quintyn). He is columnist in the main Italian financial newpaper "Il Sole 24Ore".
Ulrich Hege, Professor of Finance, FBF Chair in Corporate Finance, HEC Paris, France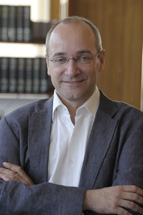 Ulrich (Uli) Hege is Professor of Finance at HEC Paris. He holds the FBF Chair in Corporate Finance, jointly with Edith Ginglinger of U. Paris Dauphine, and is a co-organizer of the Paris Spring Corporate Finance Conference. Previously, Ulrich Hege has held teaching positions at Tilburg University (Netherlands) and ESSEC (Paris). He has been a Visiting Associate Professor at London Business School and at New York University Stern School of Business. He earned M.A. degrees in Economics from the University of Frankfurt (Germany) in 1989 and from Princeton University in 1992, and received a Ph.D. degree in Economics from Princeton University in 1994.
His main research area is in Corporate Finance. He has worked on questions related to venture capital and private equity, acquisitions and divestitures, joint ventures, internal capital markets, corporate governance, the choice between bank debt and publicly traded debt, debt restructuring and credit risk, trade credit, bankruptcy and optimal design of bankruptcy law, bank regulation, and the interaction of product markets and financial markets. He also has a research interest in the theory of contracts and in Law and Economics.
He has recently published in the Review of Financial Studies, Rand Journal of Economics, Journal of Business, Review of Finance, Harvard Business Review, and other prestigious international journals. He is a member of the Executive Committee of the European Finance Association and an Associate Editor of the journals Finance and Bankers, Markets, Investors.
Ulrich Hege is also affiliated with ECGI (European Corporate Governance Institute) and the Europlace Institute of Finance.