Merry Christmas and Happy New 2016 Year!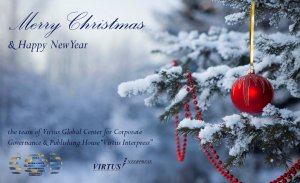 The team of the publishing house "Virtus Interpress" would like to address our best wishes to our large international network of experts in corporate governance. We hope that year 2015 will be successful for you and open the new horizons of cooperation.
Our team will be always ready to meet all your requests and proposals as it was in 2015. This year we've fulfilled several interesting projects in conference organization, book publishing and continued to enhance our services connected to the publishing of 4 international journals. At the end of the year we've tried to collect feedback from the authors about their experience working with us. Their replies are available at the pages of the journals. We are delighted to receive such a positive feedback and hope that we will continue such a fruitful cooperation next year. We will also do our best to take into account all your recommendations with regard to our services.
Next year we will arrange several interesting international events connected to the issues of corporate governance: conferences in Rome (May 2015), special session on corporate governance in Nice (July 2016) and conference in Leipzig (November 2016) and will be happy to see members of our network at these events.
Also we will do several important steps that will allow us to increase accessibility and visibility of the papers published in our Journals and hope that they will be received well by the authors and readers. To follow our activity – check our web page for the updates.
We are proud to be part of such a great network of devoted experts and will continue developing it next year.
We wish you a Merry Christmas and Happy New 2016 Year!
Virtus Interpress team