NEW ISSUE OF THE CORPORATE GOVERNANCE AND ORGANIZATIONAL BEHAVIOR REVIEW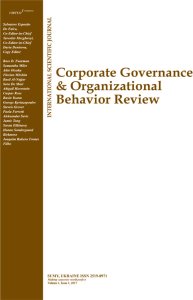 The editorial team of Virtus Interpress presents the new issue (Volume 4, Issue 1) of the journal Corporate Governance and Organizational Behavior Review represented by the scholars from Algeria, China, Saudi Arabia, Tunisia, India, and Ethiopia. The published papers are devoted to a broad variety of topics, such as financial access, corporate governance, business ethics, intellectual capital, governance structure, cost of debt, and emerging market.
The issue starts with the study of Vinay Kandpal who investigates the initiatives taken by the Ministry of Finance and Reserve Bank of India to intensify the accessibility to investment opportunities in financial instruments for the poor and underprivileged people within our society.
The study by Nour El Houda Yahiaoui and Abdelmadjid Ezzine explores if business ethics supports corporate governance practices in a sample of Algerian corporations. The study finds out that business ethics leads to better levels of corporate governance and supports its practices.
Md. Jahidur Rahman and Siyan Ding examine the intellectual capital efficiency of football clubs in the UEFA Champion League between 2010 and 2019. In the study, they document that human capital, as the core of intellectual capital, has a positive impact on structural capital.
The paper by Abdelkader Derbali, Lamia Jamel, Mohamed Bechir Chenguel, Ali Lamouchi, Ahmed K Elnagar, and Monia Ben Ltaifa explores whether creditors take into account the firm's governance attributes before they decide on the cost of debt. Using a sample of 486 U.S. firms over the period 1998-2017, they synthesized governance in six factorial axes.
Finally, the purpose of the study conducted by Gardachew Worku Fekadu is to identify the financial sector liberalization measures introduced and critically evaluate the timing and sequence of these programs implemented in Ethiopia.
The full issue of the journal is available at the following link.
We hope that reading this issue will be pleasant and informative for you!