New Book on Theory and Practice of Directors' Remuneration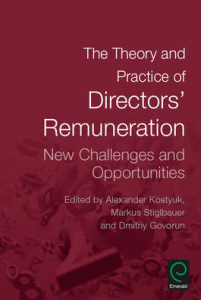 We are happy to announce that project concerning directors' remuneration initiated by Virtus Global Center for Corporate Governance was successfully completed with a publishing a book by Emerald Publishing Group. The book titled «Theory and Practice of Directors' Remuneration: New Challenges and Opportunities» is edited by Alexander Kostyuk (Ukraine), Markus Stiglbauer (Germany), Dmitriy Govorun (Ukraine).
The main objective of the book is to outline recent practical and theoretical issues and examine emerging new approaches towards directors' remuneration in the post-crisis period. Written by an established network of international experts, the book provides new data in both cross-sector and cross-country analyses and therefore provides a unique opportunity to compare results and institutional practices across sectors and nations. The book argues for a correct balance between risk and reward and for Directors' compensation to be equitable to all parties and stakeholders. By examining the current theories, practices and regulations and explaining them in detail it provides a state of the art snapshot of one of the key corporate governance issues of our time. It will be essential reading for graduate students, researchers, lecturers and practitioners in corporate governance and auditing as well as all students in finance, accounting, management and law.
The content of the book is available at the official website of Emerald Group Publishing by the following link.