New Book published by Virtus Interpress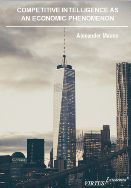 We are delighted to announce that publishing house "Virtus Interpress has published a new book written by Dr. Alexander Maune, College of Economic and Management Sciences, University of South Africa. The title of the book is "Competitive Intelligence As An Economic Phenomenon".
Dr. Maune is an expert in the field of competitive intelligence and has published numerous papers on the topic in the Journals of Virtus Interpress.
To view the book, please visit this page. For ordering – please contact us at info[at]virtusinterpress.org.
We remind authors about our book publishing services. We offer an individual approach to each customer and provide a full range of the publishing services, including consultation services for young researchers, proofreading, editing, etc.