New Issue of the Corporate Ownership and Control Journal Is Published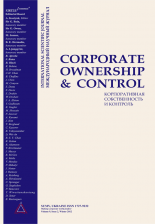 The recent issue of the journal Corporate Ownership and Control pays attention to issues of capital structure, earnings management, auditors business growth, commercialization, developing economies etc. More detailed issues are given below:
Doan Ngoc Phi Anh examines the relationship between enterprise characteristics, capital structure and operational performance among a sample of 592 companies listed on the Vietnamese stock exchange during the three years 2012-2014. Whilst most previous studies in this area have used multiple regression as the main method of analysis, the paper follows the examples of Titman and Wessels (1988) and Chang et al. (2009) and adopts a structural equation modeling (SEM) approach. The results suggest that for listed enterprises in Vietnam, operational performance has a negative effect on both of the measures of capital structure considered, namely long-term debt/total assets ratio (LDR) and short-term debt/total assets ratio (SDR), while the extent of state ownership has a positive effect on LDR and enterprise age has a positive effect on SDR only.
Farisha Hamid, Hafiza Aishah Hashim and Zalailah Salleh assess the views of auditors on earnings management in Malaysia. This study uses a questionnaire designed by Merchant and Rockness (1994), which consists of thirteen (13) short scenarios. Each scenario describes a potentially questionable earnings management activity undertaken by the general manager. The respondents were asked to judge the acceptability of each of the scenarios using a five-point (5) Likert scale. Based on responses, this study finds that acceptability varies with the type of earnings management.
Jonathan Cameron and Muhammad Hoque aim to unpack the different aspects of the financial obstacles that small medium entrepreneurs (SMEs) face in South Africa. Data were collected by conducting one on one interview's among four financial specialists from financial institution. The financial specialists reported risk was seen as a contributing factor for loans being declined. Other reasons to decline loan were not having business management skills, lack of financial management, experience in an industry and passion for what they do, poor credit record keeping, and lack of collateral. The opportunities leading from the study suggest that entrepreneurs have the potential to improve their chances of accessing finance by enrolling in entrepreneurial and business management studies, thereby learning to overcome poor financial management, and improve their business management skills.
Fanny Saruchera and Maxwell A. Phiri institute the dilemma in successfully bringing their breakthrough technological innovations to the market has remained major concern in most developing economies. Zimbabwe is no exception. The theory of Public-Private-Partnerships (PPPs) and their increasing applicability in especially the provision of public facilities and services has commanded some research interest worldwide. However, not much attempts have been made to unlock the value in the PPP's capability in enhancing commercialization of technological innovations, worst still from a developing economy's perspective. This paper explores the role of PPPs in ensuring successful Research and Development, and Commercialization (R & D-C) of research outcomes. Guided by a systematic literature review on key success factors of PPPs, cases of two forms of PPPs (a Build-Own-Operate-Transfer (BOOT) PPP, and a concession contract) were studied and their operations were monitored and evaluated, in comparison to institutes not engaged in any partnership – to supplement data obtained through key informant interviews.
Tatang Ary Gumanti, Ari Sita Nastiti and Ayu Retsi Lestari investigate the relationship between corporate governance mechanisms and earnings management (as measured by discretionary current accruals) for Indonesian IPO firms. Previous studies have mainly focused on an examination of the effect of corporate governance on the earnings management of publicly traded firms, whilst this study examines newly listed firms. It employs a modified Jones model to measure earnings management as developed by Tykvova (2006). The hypothesis predicts that Indonesian IPO firms with good corporate governance will engage in less earnings management in the periods prior to the IPO year. The sample consists of 75 IPOs and the results show that the proportion of board of commissioners, public ownership, institutional ownership and managerial ownership constrain the extent of earnings management of IPO firms.
Sunil Kumar Khandelwal and Khaled Aljifri aim to fill the gap in the current literature on corporate governance in Islamic banks. The study aims to strengthen and enhance our knowledge of some relevant corporate governance mechanisms in Islamic banks. The results of this study are expected to be useful to practitioners of corporate governance in Islamic banks, customers, and financial regulators including central banks and other relevant stakeholders. In addition, it may allow further research to bring necessary reforms to the corporate governance of Islamic banking and thus generally strengthen its practice.
Celani John Nyide and Lawrence Mpela Lekhanya present an exploratory study and qualitative in nature using a single case study with embedded units approach. ABC Hotel Management Group formed part of this study along its 3 hotels which met the selection criteria. In-depth semi-structured interviews comprised the main method of data collection. Additional documents were analysed which included financial statements, policy documents, the Group's website, the hotels' websites, Group Energy Profile Analysis (GEPA) programme, and Building Monitoring Systems (BMS). There were 10 participants in this case study which included the group engineer, who is the main custodian of the Group's environmental management systems, 3 general managers, 3 financial managers, and 3 maintenance managers. The study discovered certain external and internal factors enabling the implementation of EMA tools; and there was the existence of limiting factors, internal and external, such as the shortage of skills and knowledge.
Salma Belhaj and Cesario Mateus investigate the impact of corporate governance on European bank performance during the period 2002-2011. Using a sample of 73 banks from 11 European countries, authors examine the relationship between corporate governance measures more specifically the board size and composition, the gender diversity and the CEO duality on the European bank performance.
Lélis Pedro de Andrade, Aureliano Angel Bressan, Robert Aldo Iquiapaza and Wesley Mendes-Da-Silva by using 3,057 observations from 2000 to 2012, found the risk of expropriation of minority shareholders by controlling shareholders is positively associated with participation of institutional investors in equity funding. There is no evidence that these investors increase the likelihood of substituting the chief executive officer or increase the company's value or its financial performance. However, the presence of institutional investors is associated with higher company debt. This study suggests that institutional investors assume a function not fully explained by agency theory, such as enabling greater access to debt markets, but accentuate the agency conflict between controlling and minority shareholders.
Steph Subanidja, Aiaz Rajasa, Eduardus Suharto and Jalu Dwi Atmanto analyze the determinants of firm value in relation to earnings management and the mechanism of GCG as a moderating variable. The GCG is not viewed as an antecedent variable. The research sample is 46 companies in the entire industry of consumer goods of manufacturing companies in the Indonesia Stock Exchange. By specific considerations, the number of the sample is reduced to 39 out of 46 companies. The method used is a moderated regression analysis (MRA). The results show that the earnings management and the mechanism of GCG have an impact on the firm value. The dimension of GCG, namely, independent commissioner, managerial ownership, and audit quality can be placed as moderating variables and as determinants of firm value.
Ntoung A. T. Lious, Carlos Ferro Soto and Ben C. Outman provide empirical evidence of the characteristics of ownership structure on firm's performance. They examine 254 small and unlisted firms from the SABI database over the period 2000 to 2014. Using panel regression, the findings show that companies with family having majority ownership are more profitable and the market value such companies. The findings indicates that over performance of most firms depends on certain characteristics of their ownership. Companies with active founders perform better companies with passive founders.
Majed Alharthi aims to find the determinants of profitability in Islamic, conventional, socially responsible banks covering the period 2005-2012. The author applies profitability's indicators as the return on assets (ROA), return on equities (ROE) and net interest margin (NIM) ratios. The statistical approach to find factors of profitability is OLS. The highest ROA and ROE were attained by conventional banks, whereas, SRBs scored the lowest ROA and ROE. By contrast, the SRBs scored the highest NIM measures, while conventional banks have the minimum NIM ratios. Based on Islamic banks' results, Islamic banking was affected positively by size and z-score while, capital ratio, GDP and inflation decreased earnings significantly.
Louise van Scheers recommends that social media can be cost effective if the SMEs make use of their social networks (professional and personal) and use best practises that enable them to get their adverts or posts shared across social networks. The respondents report a sales, product awareness, consumer support and overall productivity increase. There seems to be an effect of age on the percentage increase in sales, product awareness, consumer support and overall productivity. Although the results show that most SMEs have access to internet only 54.8 % of the respondents use social media to promote their businesses. The research established that that the largest proportion of respondents are new to using social media to create awareness for their products.
Anthony O. Nwafor examines, by a comparative analysis, the provisions in the Companies Acts of the United Kingdom, Nigeria and South Africa. While a significant improvement seems to have been made in those jurisdictions in redefining the contractual effects of the companies' constitution in their respective extant companies' legislation, the gale of controversy on the enforcement of those contracts are far from settled.
Stefania Zanda offers a contribution to conceptual clarity on the nature of leadership and the elements that compose it. The author also develops a model that systematically represents the relationship between leadership styles, the quality of the management process and business results. The following approach is interdisciplinary but based on the classical theory of management in order to maintain realism and concreteness.
To browse the issue visit this page.