New book has been published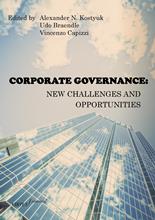 At the beginning of the year, the publishing house "Virtus Interpress" has initiated a new project, a book titled "Corporate Governance: New Challenges and Opportunities".
We are glad to announce that the book has been already published. We are happy to present a sample of the publication.To preview the book, please visit this page. For ordering – click here or just pay online with the card here.
"Corporate Governance: New Challenges and Opportunities" includes views of 19 contributing teams on the main issues of the corporate governance and outlines of its fundamental aspects in different countries:
Anna Tilba, the UK
William L. Megginson and Romora E. Sitorus, the USA
Raef Gouiaa, Canada
Mark Wickham and Kim Backhouse, Australia
Mark Rix and Anil Chandrakumara, Australia
Helen Roberts and Michelle Li, New Zealand
Fadi Alkarran, Ireland
Emilie Bonhoure and Laurent Germain, France
Niels Hermes and Kees van Veen, the Netherlands
Doriana Cucinelli and Danilo V. Mascia, Italy
Elena Merino and Montserrat Manzaneque, Spain
Inês Lisboa, Maria Clara Guilherme and Nuno Teixeira, Portugal
Seppo Ikäheimo and Mirel Leino, Finland
Fumiko Takeda, Japan
Leszek Bohdanowicz, Poland
Kontogeorga N. Georgia, Georgios L. Thanasas and Smaraidos Sp. Vassilis, Greece
Dilvin Taşkın and Ece Erdener Acar, Turkey
Ehab K. A. Mohamed and Mohamed A. K. Basuony, Egypt
Sandra Gaitan and Jimmy Saravia, Colombia
The book is edited by Professor Vincenzo Capizzi, Professor Udo Braendle and Professor Alex Kostyuk.
Here are some comments from the experts in the field of corporate governance on the book.
Alessio M. Pacces (Professor of Law and Finance, Erasmus University Rotterdam, Netherlands; Research Associate, European Corporate Governance Institute, Belgium): "Corporate Governance: New Challenges and Opportunities illustrates the still unsettled view that one size does not fit all in corporate governance. Challenges and opportunities differ across countries. This collection of essays documents this fact by focusing on a unique selection of countries, going well beyond the 'usual suspects' in comparative corporate governance. The authors of each chapter are specialists of the national corporate governance debate, as revealed by the level of detail in the analyses. Moreover, the approach is always interdisciplinary, as it includes theory, data, and legal information pertaining to the specific country. This book is highly recommended for students, scholars, and practitioners interested in comparative corporate governance".
Laurent Germain (Professor, Department of Economics, Finance and Law, Toulouse Business School, France): "This book provides on a newly way a useful overview of what is currently in practice in many countries in terms of corporate governance. It should then allow a quick and efficient comparison of these different practices for both practitioners and academic researchers.
I should add that after the numerous regulatory changes of the past decades, this book results in being necessary to briefly update those who deal on a daily basis with corporate governance issues. It also leaves some tracks for scholars to determine what is currently at stake in corporate governance in order to fit in their own research the major debates and questions of the field. Hopefully on a longer term, this may enhance cooperation between both worlds".
Áron Perényi (Lecturer in International Business, Swinburne Business School, Swinburne University of Technology, Hawthorn, Australia): "Corporate governance after the millennium has been challenged by two mega-trends: the progress of globalisation and the imperative of limited resources compared to the growth of economic activity. The former created a challenging environment in which the stakeholders involved in corporate governance have become more numerous and complex. The latter imposed an additional objective to the operations of the corporate bodies, namely sustainability and responsibility. This volume provides insight into the key features of and changes in corporate governance in developed and emerging economies. The volume heavily incorporates discussions on sustainability and responsibility as a key component of corporate governance, equally so in developed and emerging economies. The emerging complexity of corporate governance is captured by the authors by means of discussing internationalisation and stakeholder perspective. This discussion on stakeholders seems to be the intersection between the two key trends identified above and the scholarly endeavours of examining corporate governance. This volume provides an outstanding account of this stakeholder view and its role in corporate governance".