New book on Governance and Regulation Issues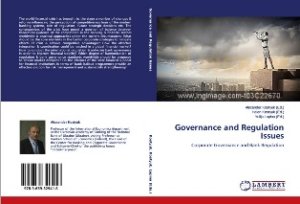 In April, 2014 team of the publishing house "VirtusInterpress" and the International Centre for Banking and Corporate Governance, headed by Professor Alex Kostyuk got positive result on the future publication of the new book "Governance and Regulation Issues: Corporate Governance & Bank Regulation" from the publishing house "Lambert Academic Publishing" (Germany). The book will be published under the editorship of Alex Kostyuk, Helen Kostyuk and Yuliya Lapina. Book`s contributors are the scientists from different countries all over the world, including Italy, Ukraine, Poland, Australia, South Africa and the UK.
The main issues in the book focus on the urgent problems of corporate governance and banks regulation. The key points, which are under discussion in the book, include corporate governance issues and their impact on the banks performance, risk management, liquidity management, banks regulation and supervision issues and others.
Since Lambert Academic Publishing's foundation, thousands of top researchers and renowned scientists have embraced its unprecedented approach to free publishing, thereby making it a leader in the book publishing industry today.