New book on financial regulation and supervision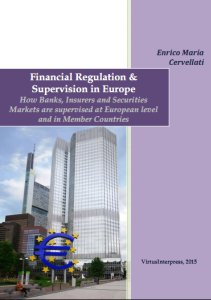 We are glad to announce that Virtus Interpress has published the book written by Professor Enrico Maria Cervellati from Università di Bologna (Bologna, Italy). We would like to emphasize that cooperation between Enrico Maria Cervellati and publishing house continues for quite a long time and is very fruitful. And here is the book titled "Financial Regulation & Supervision in Europe: How Banks, Insurers and Securities Markets are supervised at European level and in Member Countries". This book is based on author`s PhD thesis, on which he started working more than fifteen years ago.
The author offers historical perspective on the changes in the architecture of the systems regulating and supervising the financial industry that took place in Europe; gives a detailed comparison of the distinct supervisory architectures in place in the European Member States; and underlines the theoretical debate on how to improve the regulatory and supervisory systems at European level.
This book is available to buy in printed and electronic version:
Printed version – 75 Euros
Electronic version – 60 Euros
To order the book please write us at yu.h.lapina[at]virtusinterpress.org. We will contact you back concerning your request and clarify all important points of the deal.