New feedback from our international scholarly network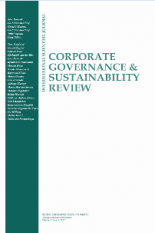 Publishing House "Virtus Interpress" continues to implement its transparency policy in terms of communication with the key stakeholders – authors and reviewers. This time we would like to publish some new pieces of feedback from the reviewers and authors who published their papers in the Corporate Governance and Sustainability Review journal.
The comments are available below.
Feedback from the authors:
Hashem Iswaissi, PhD Student, Glasgow Caledonian University, UK: "I really appreciate Corporate Governance and Sustainability Review. The Journal is quite professional and efficient in communicating with authors. Communicating with the editorial team is very professional and constructive. The Editors was quick enough to respond to my queries and provide the requested information. I am very proud to work with you and I wish the journal keeps more progress and success".
Munib Badar, PhD, IQRA University, Pakistan: "During the course of my interaction, I got opportunities of both publishing and reviewing what fascinate and depict the high quality of the Journal carries in all aspects obviously emerges from the true leadership. The Editor and his entire team are proactively responsible and lead you the right possible way. Wish them success in their future endeavours!"
Frank Lehrbass, Professor of Business Administration, FOM University
of Applied Sciences, Germany: "The Journal provided timely and helpful feedback to my submission. The processing of it went well and desired revisions were processed in due course by Corporate Governance and Sustainability Review".
Feedback from the reviewers:
Alessandra Allini, Professor of accounting at University of Naples Federico II, Italy: "The Editor of Corporate Governance and Sustainability is always prompt and kind in his communications and the review process is speedy. The Journal covers a wide range of topics concerning sustainability and corporate governance. My experience of cooperation with this Journal
is really good".
Lorenzo Gelmini, Professor, University of Piemonte Orientale, Italy: "Even though it is my first experience of collaboration, I have found a stimulating, rich, precise and organized research environment. In particular, the Editor of the journal has always demonstrated punctuality, attention and rapidity in the organization of the work, in particular when it regards the availability of the papers subject to review and the management of correspondence with authors and reviewers. I find our experience particularly positive and I hope that the journal will be widely disseminated amongst the scientific community".
Other comments are available here.