New issue of Corporate Law & Governance Review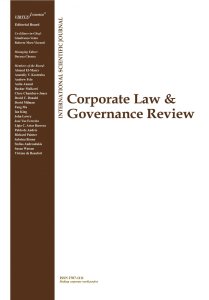 The editorial team is happy to introduce the first issue of the Corporate Law & Governance Review in 2021. The papers in this issue focus on a variety of topics in the field of corporate law and governance, i.e., corporate governance model, limited liability companies, liability of managers, general meetings, pre-incorporation contracts, statutory reforms, legal regimes, depositing fictitious capital and others.
The first paper in the issue by Işik Özer purports to reveal how article 625/2 of the Turkish Commercial Code (TCC) could be interpreted and the regulations to be made in the agreements of limited liability companies in Turkish law. To do that, the author interprets article 625/2 of TCC and also explains the effect of this article on the liability of the managers and the references made to articles 51 and 52 of the Turkish Code of Obligations (TCO).
The next paper authored by Shu Li aims to reveal the three trajectories of establishing the two-tier model and select Germany, Italy, and China to discuss the ontology of the two-tier model, its integration with other local models, and its development variants. This paper compares the similarities and differences of the two-tier model in the organizational structures of three countries to show that there is institutional inertia or path dependence in the design of legal systems and rules on corporate governance.
Wiseman Ubochioma in his research examines the extent to which the Canadian and Nigerian legal regimes for the pre-incorporation contract have provided panaceas to the problem. This paper, through a comparative analysis, argues that although the legal regimes have made efforts to reform the common law rule on pre-incorporation contracts, they suffer patent defects.
The aim of the research by Yalid, Ryan Aditama, Sindi, Husni Tamrin, Iswandi is to answer the question: "What is the legality and legal consequences of an establishment with a fictitious authorized capital?". The research was conducted via the study of literature with this type of normative legal research supported by an empirical approach.
A book review of the textbook titled "Corporate governance: Theoretical essentials and international practices" by José Manuel Bernardo Vaz Ferreira ends this issue. This review focuses particularly on the relationship between corporate governance and financial structure, the role of institutional investors in corporate governance, etc., and highlights the contribution of this textbook to the ongoing discussion on key points relating to corporate governance.
You are welcome to browse the full issue at the following link
We hope that reading this issue will be pleasant and informative for you!