New issue of Corporate Law & Governance Review has been published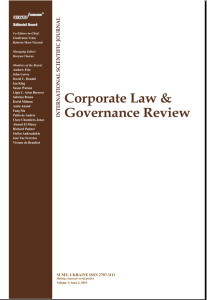 We are pleased to present a new issue of the Corporate Law & Governance Review in 2019. This issue is dedicated to such research topics as board of directors, firm performance, corporate governance, governmental transparency, social responsibility, sustainability, ethics and values, anti-bribery and corruption etc.
The first research in this issue, authored by Elena Merino and Montserrat Manzaneque, is aimed to disclosure proven relationships between board governance variables and firm performance based on an analysis of relevant studies in Spain. The scholars provide a legal overview of Spanish corporations and an analysis of corporate board practice in Spain.
Gábor Szalay, the author of the next study, highlights the possible adverse effects of the lack of transparency exerted on corporate governance.
Mark Rix in his work investigates the changing duties and responsibilities of boards and directors of Australian public companies. The author examines how the stakeholders are reshaping corporate governance in Australia and also calling for a reconsideration of the way in which performance is assessed.
The following research of Raef Gouiaa is intended to review the Canadian legal and practical landscape related to corporate governance and its external and internal mechanisms.
Philmore Alleyne and Renée M. Thompson in their study investigate the relationship between corporate governance practices of the board of directors and firm performance of Colonial Life Insurance Company (CLICO), a large insurance company which collapsed in Barbados, and caused significant financial losses to policyholders.
In the final research Khaled Otman investigates the board of directors and their effect on company performance in emerging markets, particularly in the United Arab Emirates (UAE).
We hope that reading this issue will be pleasant and informative for you!
To browse the issue - https://www.virtusinterpress.org/-2019-Issue-2-663-.html