New issue of the Corporate Ownership and Control Journal is published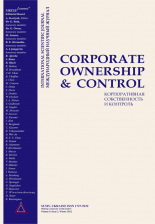 The recent issue of the journal Corporate Ownership and Control pays attention to issues of company's performance; internal audit; governance; municipalities; cash flow rights; capital structure; book value; stock price etc. More detailed issues are given below:
Tariq Tawfeeq Yousif Alabdullah aims to investigate the effect of the board's characteristics in association with the performance of companies in the context of the business environment in the Middle East and specifically by examining the country of Jordan. In addition to examining the board's characteristics, this study also investigates the relationship between the board's characteristics of managerial ownership and the duality or the non-duality of the role of the Chief Executive Officer (CEO) as one of the important mechanisms of corporate governance and a company's performance using both traditional measurements of return on assets (ROA) and return on equity (ROE) and contemporary ones of market share measurement of a company's performance to avoid manipulation.
Christo Ackermann reports on the extent to which internal audit in the eight metropolitan municipalities in South Africa assists audit committees in their governance oversight responsibility, focusing on the scope of work of internal audit with reference to its governance mandate. A data transformation triangulation design was followed to describe internal audit's functioning.
Xie Lingmin investigates the impact of the ultimate corporate ownership structure, particularly the divergence of ultimate controlling shareholder's control rights and cash flow rights, on the capital structure decisions among firms listed in Chinese market where the legal protection for creditors and minority shareholders is weak. The author finds that firms with a wider divergence between the ultimate controlling shareholder's control rights and cash flow rights have significantly higher leverage level of capital structure.
Ntoung A. T. Lious, Outman Ben Chettah and Eva Masárova assess the agency cost of type I on the value relevance of accounting numbers (earnings and book value) for all listed firms in the manufacturing, retailing and service industries in Australia and India from 2005 to 2012 using the modified version of the Ohlson' model in Faud and Mohd, (2008) where price is express as a linear function of earnings, book value and various accounting numbers. As predicted, the results show that both earnings and book value are value relevance for the manufacturing, retailing and servicing industry in Australia and India.
Alexandros Garefalakis, Augustinos Dimitras, Christos Floros and Christos Lemonakis present a study, which is the first piece of accounting disclosure quality research which proposes a comprehensive index that uses Key Performance Indicators (KPIs) to enhance understanding of the quality of narrative information disclosure in a very important transitional period of 2002 to 2007. The results show that after the adoption of IFRS, the level of narrative disclosure compliance with the IASB's Management Commentary Framework (MCF) is medium, ranging from 8% to 75%, averaging 53% and this shows that there is much room for improvement with respect to the financial statements.
John Annakis and Alexis Esposto argue that little is known about talent management perceptions and behaviour of Academics in universities in the region. Four constructs were identified and analysed from the literature - talent identification, talent culture, talent competencies and talent development. Questionnaires were distributed to academics from 4 semi-private universities in Malaysia and Vietnam. The findings reveal that talent identification, talent development and talent management culture are the most important contributors to talent management competency for Academics across the samples. The findings also suggest that talent management competency levels for Academics are significantly higher when management have integrated HR systems that identify value, measure team and individual performance, assess and develop, give honest formal feedback and a culture of rewarding high performance.
Catherine Mpolokeng Sephapo, Michael Colin Cant and Johannes Arnoldus Wiid investigate whether small business enterprises are burdened by the administrative processes required in South Africa to comply to with the tax regulations of the country. The South African government has strict policies and procedures in place that all businesses should adhere to. However, the key challenge that many SME's still face is that of red tape and burdensome regulatory processes and procedures. In an attempt to establish the main objective of the study, a quantitative approach research approach was employed and a significant amount of small businesses were surveyed.
Pilar Giraldez and Emma Berenguer focus on the export activity of family firms, to see if women in governance positions have a positive effect on it. In order to clarify these effects, we have divided such positions in three different roles: ownership, boards of directors and the executive management. Data were collected from System for Analysis of Iberian Balances database (SABI) and the Spanish High Council of Chamber (SHCC) website to build a sample of Small and Medium Sized Spanish firms with some exporting activity between years 2000 and 2011. The results suggest that female executive managers are less risk-averse and more growth-oriented than female owners and directors.
Mejda Mahmoudi Akrout and Hakim Ben Othman examine the association of ownership structure with the environmental disclosure of listed companies in the Middle Eastern and North African (MENA) emerging markets. A self-constructed environmental disclosure score based on the framework of the Global Reporting Initiative (GRI) was used. Investigating a sample of 347 annual reports, the authors calculate the score for listed companies pertaining to 10 MENA countries. The results revealed that the majority of companies in our study provide a separate section for environmental issues on their annual reports.
Elisa Giacosa, Francesca Culasso, Alberto Mazzoleni and Rossi Matteo propose a model thanks to which the management, the owners and the stakeholders could assess the evolution in time of small and medium-sized enterprises' state of health, in terms of different criteria during the considered three year period. For this purpose, framework is represented by a model developed in the previous publication (Giacosa and Mazzoleni, forthcoming), which distinguishes small and medium-sized enterprises into several typologies, in terms of above-mentioned criteria. The originality of the research is consistent to the current context in which the companies operate, which is changing in an intensive way because of the world financial crisis.
Saeed Pahlevan Sharif and Ken Kyid Yeoh develop a comprehensive measurement index that captures a wide range of independent director characteristics that collectively reflect their overall resource provision capability in the context of Malaysian publicly-listed companies. A detailed content analysis of independent director-related disclosures in the annual reports of 217 family-controlled companies listed on the Malaysian stock exchange (Bursa Malaysia). Ten distinctive types of 'resource' that independent directors bring to their respective companies were identified. These resources (e.g. government contracts, networks, loans, expertise, etc.) are then utilized to develop a resource provision capability index. The resultant index provides a fair indication of independent directors' contribution to enhancing/sustaining their respective companies' performance.
To access papers in the issue follow this page.